"42 Rules for Cold Calling Executives"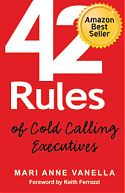 Author: Mari Anne Vanella
The "42 Rules Series" is sort of like the "Books for Dummies. Authors with ideas they want to convey work with the "42 Rules" publishing group to get the word out under a known entity.

Sometimes the authors miss, other times they hit a home run. Mari Anne's book falls into the group of home runs. This author is a professional appointment scheduler. The knowledge she shares is worth its weight in gold. Learned in the school of hard knocks, Mari knows her stuff. Reading this book is better than sitting in a room full of executive assistants - who do this kind of thing for a living.

The BEST deals are on Amazon.



Copyright 2009 Cold-Calling-Top-Dogs.com