"Who Else Wants a Unique Selling Proposition that Makes You Stand Out in a Crowd?"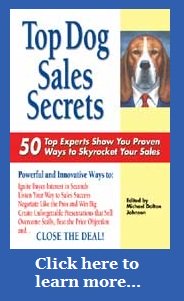 In your diligent search for a Unique Selling Proposition (USP) that'll make your cold calling efforts payoff big time ... the question that burns in your mind is, "How do I write a really good USP?"
This is an easy question to ask - but to answer - not so much.
When my first business was in its infancy stages, I thought I had a good USP. Turns out I was kidding myself and didn't know what I didn't know. Fact was I had a features-filled statement that was meaningless to my prospects.
When asked, "What do you do?" I thought I was answering with a Unique Selling Proposition as I said, "I customize workshops, keynote speeches and consult to sales and services professionals." As is happening with you right now, their eyes glazed over too.
The mistake I made is common throughout business. I told the listeners what I do for a living instead of addressing the listener's unspoken question, "What's in it for me?"
After learning that point, I came up with a real USP, "Increase your cold calling revenues by at least 20% or you get your money back."
What a difference in impact as listener's eyes snap to attention with that Unique Selling Proposition.
Let's break down these scenarios to find the gems that will help you craft a killer USP.
You already know that prospects do not particularly care about the features of your business. They are interested in solutions to their most pressing business problems and how your business benefits them with solutions. So, whether you call it your Unique Selling Proposition, your elevator pitch , or your phrase that pays ... you want it to convey the solutions and value you bring to the party.
Armed with this understanding, you can stop conversations that focus on your desire to tell people what you do and begin to engage in conversations that focus on the wants of your prospect. This is the heart of your core value proposition.
Make this significant change and you will find yourself telling your prospects how you can help with solutions to their business problems and watching them eagerly respond to you.
Let's make sure you have a working knowledge of the dramatic differences between features and benefits.
Features have to do with the make, shape, form or appearance of a person or thing - a distinct or outstanding part, quality, or characteristic of something. Such as, the phrase "customized workshops" that I used to use when I talked with prospects.
Benefits have to do with contributing to an improvement in condition; to receive advantage; profit. Such as the phrase "increase your cold calling revenues by at least 20%" that I now use in conversations with prospects. This number is significant to companies that expect their cold calling strategies to generate 49 - 80% of new business.
The same holds true for you. Your USP must focus on a benefit that is meaningful to our prospects. That benefit will come to light as you respond to the following sentence, "You, the customer, will profit in the following way(s) by using our products and services ..."
Gain clarity on your USP and you will be ready to develop a unique selling proposition that open doors and win over prospects.
---
Recommended Resources
Secrets to scheduling the executive-level sales call: How to win over the million-dollar decision maker

Selling to Big Companies
---
Related Articles
Creating an Elevator Pitch That Works
Develop Unique Selling Proposition - Your First Step
Your Elevator Pitch is Critical to Cold Call Success
---
Return from Unique Selling Proposition to Cold Calling Top Dogs Home Page