"Funnels and Forecasts: The Great Game of Sales"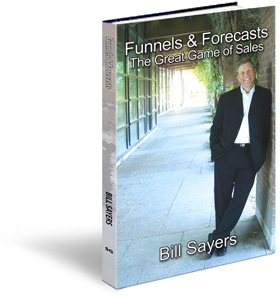 Author: Bill Sayers
For sales professionals and sales leaders it is becoming increasingly difficult to stay ahead of the pack. Aggressive competitors, savvy buyers, and corporate bureaucracy all conspire to hold even the best of the best back.

The author, Bill Sayers, asks you to, "Take a good look at your sales career. Are you successful? At the top of your game? Are you the $1,000,000 a year rep or the $30,000 a year rep?"

In Funnels & Forecasts Sayers helps you break through the barriers and achieve the sales success you deserve. His practical advice, tips and exercises wrapped into an easy to read book, that doubles as a handy reference guide, will give you the winning edge in the great game of sales.

One of the world's foremost experts in sales and sales leadership, Bill Sayers has more than 25 years of experience in sales and sales leadership. He started his career as an inside sales rep and worked his way up the corporate ladder to the level of VP of Sales at an IBM company. IBM has launched more than one sales consultant so their smart-selling techniques now go way beyond the IBM identity.

Sayers worked for Revelstoke Lumber, King Products, Linotype, Ryder Transportation, GE Capital IT Solutions and IBM. He has been a professor at George Brown College teaching Personal Selling Skills to the Sports and Event Marketing Graduate Program. He is also on the faculty of Canadian Professional Sales Association and Canadian Management Centre. Bill is an Associate Member of TEC (The Executive Committee

The best deals are on Amazon.



Join in and write your own page! It's easy to do. How? Simply click here to return to Cold Calling Books: Raves!.
Copyright 2009 Cold-Calling-Top-Dogs.com