"Selling to Big Companies"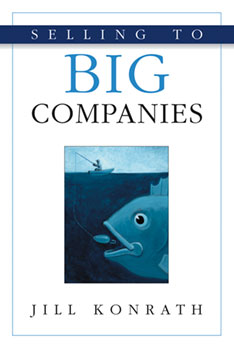 Author: Jill Konrath
During a dinner conversation with Jill Konrath, she confessed, "People come to me to clear the clutter of their thinking. They think I am a brilliant strategist, in truth; when things don't make sense to me I have to make them simple."

I disagree with her and think she is a brilliant strategist. I don't say that just because we are friends! I say it because Jill is a good thinker, really good.

What I like about her book, "Selling to Big Companies," is a lot. Jill figured out how to get her foot in the door of crazy busy buyers - with great success I might add -- and wants to serve others by showing them how to do the same thing.

Jill doesn't like that so many small to mid-sized businesses with excellent products and services aren't getting the sales they deserve simply because they don't know what words Big Companies need to hear. So, she decided to share her knowledge with the business community and made quite a significant splash while she was doing it!

Now, even Forbes magazines says Jill's book is a "must read."

Konrath's writing style is clear and to the point. Most cold callers get stuck in the muck of trying to come up with a value proposition that will win over prospects. This is where Jill's book excels - in helping readers come up with a strong value proposition ... also known as Elevator Pitch, Unique Selling Proposition (USP), and "THE phrase that pays!"

Callers are beyond frustration because they don't know how to introduce themselves in a way that will compel prospects to throw the doors wide open. They lament, "If only I had an effective value proposition!"

To this point Jill says straight up:

- Weak value propositions are the root cause of most sellers' inability to get into large corporations

- Strong value propositions focused on the business value that companies get from using your product or service are of high interest to corporate decision makers.

- Specificity sells. Include numbers, percents, dollars and time frames to make your value proposition stronger and more credible.

After making her case clear, Jill takes your hand and walks your through the process of developing your own value proposition; and makes a daunting, confusing, confounding task crystal-clear.

The successful people I know each have a library full of business books to which they refer on a regular basis. A library is their way of having expert-authors on hand to answer their pressing business questions. "Selling to Big Companies" is a book you want in your library for such a time as this!

For more about this book, click here.



Join in and write your own page! It's easy to do. How? Simply click here to return to Cold Calling Books: Raves!.
Copyright 2009 Cold-Calling-Top-Dogs.com