"Top Dog Sales Secrets: 50 ways to skyrocket sales"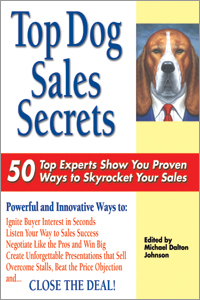 Authors: Top Sales Experts
Here's where 50 proven sales and cold call experts show you ways to skyrocket your sales. The Sales Dog group surveys sales professionals, entrepreneurs, business owners, sales leaders and executives - pretty much anyone who wants to dramatically increase sales and finds experts to answer their questions.

Contributors to the Sales Dog books appreciate the opportunity to submit practical solutions to a wide variety of readers who will actually use them.

In this edition you will find:

Powerful ways to ignite buyers' interest in seconds ... which is exactly what we cold callers want to do.

How to listen your way to sales success ... we cold callers want to ask more questions than our prospects and learn to listen closely to their answers.

Innovative ways to overcome stalls and beat the price objections ... nothing worse than "we'll get back with you" in the middle of a cold call so pay particular attention to this section.

How to create unforgettable presentations that sell ... although this is for face-to-face sales presentations the principles translate effectively to your cold call presentations and keep you memorable.

How to negotiate like the pros and win big ... this mindset will help you hold your own as you cold call Top Dog decision makers.

Once you are hooked on Sales Dog, know there are plans for more volumes in the future. Add them to your library and build a wealth of expert counsel that will be available to you anytime and is as close as the reach of your arm.

For more about this book, click here.
Join in and write your own page! It's easy to do. How? Simply click here to return to Cold Calling Books: Raves!.
Copyright 2009 Cold-Calling-Top-Dogs.com