"b2b Cold Calling, THE Most Direct Route to Decision Makers"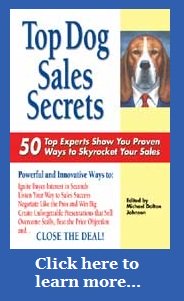 Without question b2b cold calling (business to business) is the fastest and most direct way to make contact with high-dollar, decision-makers.
Sure you can spend your time off the clock at 6 AM leads meetings, after 5 PM schmoozing at Chamber of Commerce events and during the day figuring out how to create an expensive direct mail campaign. All on a wish and a prayer of finding someone who knows someone who might be able to introduce you to the decision makers of the companies you want to do business with.
Or you can pick up the phone, call and ask for a meeting with said decision makers.
I am unabashedly a Top Dog cold caller and can no longer conceive of doing business any other way. This means each call is made with the goal of closing C level sales. C level sales are those made at the executive levels of an organization, those with a "C" in their title. For example the Chief Information Officer (CIO), the Chief Financial Officer (CFO) and even the Chairman of the Board (COB).
Many of us around the globe are of a like mind. As a practice we prospect the C levels and ask the rhetorical question, "Why invest hours upon hours of time trying to get an introduction when I can call, introduce myself and schedule an appointment to boot!"
The sales professionals who exploit (in a good way) cold calls say they are looking to do business with 20 to 30 new companies a year – to blow their annual sales goals to smithereens and come in waaay over the top. They state their reliance on phone prospecting to achieve a whopping 80% or more of their annual sales goals.
The instant you make the same commitment expect two questions come to mind:
(1) Should sales pros be the ones to call or should an in-house or outside service schedule appointments?
(2) What words need to be in the script …to get past the initial beginning moment when things are very icy … and through to the end where an appointment is scheduled?
After those decisions are made, questions come up about your b2b cold calling target.
(3) What level should I call … how to determine who makes the decision and then get to that person?
(4) Where are my leads supposed to come from … and how do I get a hold of the decision makers?
Then, the questions become more personal:
(5) How do I keep my dobber up when a huge majority of calls go to voice mail and only one out of fifty calls results in a real voice on the other end of the call.?
(6) How do I evaluate the cost effectiveness of the time and energy spent on b2b cold calling?
Get the answers to these questions right and look forward to excellent sales results with the majority coming from b2b cold calling.
---
Recommended Resources
Surviving and Thriving in a Customer-Driven Age
Take the Cold Out of Cold Calling
---
Related Articles
Telemarketing Tips: Avoid This Common Mistake
Telemarketing Services: 3-Part Combination for Success
---
Return from b2b Cold Calling to b2b Telemarketing Page