Cold Calling Success Shaped by 10 Points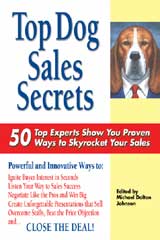 One of my colleagues and I talked about cold calling success and how to help more sales professionals reach their sales goals.
We knew that for cold callers to receive the maximum impact and the most powerful transformation, we needed to know what was really going on in the thoughts of sales pros. We needed to identify the "essence" of cold calling failure and more importantly, the "essence" of cold calling success.
The results of our -data-collection-surveys were especially eye-opening because we surveyed sales professionals who rely on cold calling as a significant part of their prospecting strategy. As you read further, keep in mind these sellers are talking about something they do for a living.
The 10 points on the survey were crafted from the questions repeatedly asked by sales pros. These questions when left unanswered become thoughts that sellers unwittingly begin to "own" as truths.
The 10 common stumbling blocks are:
1. I feel like I'm an outsider having to explain myself to my prospects.
2. I tend to avoid contacting the high-level decision-makers and stick with the easy to reach low-level decision-makers.
3. I beat myself up whenever I fail to secure an appointment.
4. I freak-out when I think about controlling each call and having to get a positive outcome in 90-seconds or less.
5. I find myself falling victim to price-centered conversations and talking about my product/service as a commodity.
6. I cold call to sell what I have to offer rather than to establish a business relationship.
7. I get caught up selling or answering my prospect's questions and end up losing the appointment.
8. I get weak in the knees even paralyzed by fear.
9. I tend to believe that Gatekeepers are the bane of my existence.
10. I often feel like I'm calling a big, scary "job" title in an important company.
Much to our surprise in the "open Dialog" box on the survey respondents identified an additional 29 stumbling blocks; they felt were not covered by the above statements!
The survey process also revealed that successful cold callers have a different take on this information altogether. Successful cold callers perceive these "stumbling blocks" not as barriers to success but as indicators pointing to important areas for growth toward success.
Successful sellers have these kinds of thoughts about cold calling:
"I cold call to open important new business relationships."
"I prospect from the top down."
"I befriend the executive assistant."
"I call to open business relationships and speak in terms of benefits."
"I convey that I belong, without saying a word."
"I set a friend-to-friend tone with each call."
"I control my thoughts throughout each call."
"I convey respect for my prospect's time by directing the call."
"I open business relationships by scheduling appointments."
"I give emotions place and position, they point me to success."
"I leave voice mail messages that compel prospects to call me back."
"I am good at talking with people. Prospects are people. I know the words to say to prospects."
"I have a moral and ethical obligation to inform prospects of the value of my product/service."
In a nutshell, cold calling success is driven by these kinds of thoughts.
---
Recommended Resources
Ready for cold calling success? Here are several two to four minute video clips to get you "game ready"!


The Best Way Out is Always Through
The Wisdom of Wolves
The Best of Success
---
Related Articles
When Dialing for Dollars Avoid These Pitfalls
Effective Cold Calling is Found in These Easy Steps
How to Cold Call is Easier and More Rewarding Than You Think
---
From Cold Calling Success to Call Reluctance Page