"Tips on Telemarketing that Can Double Your Sales"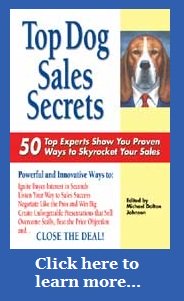 Implementing tips on telemarketing is well worth the research and the effort. Here's why:
In Brian Carroll's important book, "Lead Generation for the Complex Sale" he stated, "Research shows that the addition of an inside teleprospector to support one direct salesperson can increase that person' sales revenue from 50 percent to 150 percent. Projected, all else being equal, that means 10 salespeople could end up wit as much selling time as 25."
Combine research findings with the understanding that one sales person who generates $1 million is sales has a per hour value of $500. Then, decide whether sales professionals should make telemarketing calls or professional telemarketers in-house/outsourced will give you the most value for money spent.
Regardless of the decision keep these things in mind as you plan your telemarketing strategy:
- Make your entry at the top of the organization not at the bottom. Your positioning is stronger if you start at the top and are referred to the correct decision maker than if you start at the bottom and are referred up.
- The Executive Assistant can be your strongest ally. Whether you like it or not the fact of the matter is that the Executive Assistant is a significant influencer
- Speak from your strength and knowledge. You may not know your prospect's business but you do know your business and the potential it has for making a favorable impact on your prospect's business.
- End each call with a desirable outcome and track that outcome in your database. Examples of desirable outcomes include scheduling an appointment with the Top Dog decision-maker; getting an agreed upon date for you to call back; getting and email address with permission to stay in touch.
A successful telemarketing plan is one that produces consistent results and is an ongoing part of the lead generation and selling process. As you build, keep in mind there are telemarketing tasks that do not require relationship building, such as, the gathering and verification of data. Other tasks require relationship building such as appointment scheduling and following up on leads from the web. Each of these are important tips on telemarketing also known as marketing done by phone.
---
Recommended Resources
Lead Generation for the Complex Sale: Boost the Quality and Quantity of Leads to Increase Your ROI

Secrets to scheduling the executive-level sales call: How to win over the million-dollar decision maker
Here you will find free white papers that give valuable insight. Help yourself, but remember - these resources are updated weekly so check them out now and come back often.


b2b Telemarketing
---
Related Articles
b2b Cold Calling. THE Most Direct Route to Decision Makers
Profitable Telesales Training Must Address These Two Elements
Telemarketing Tips: Avoid this Common Mistake
---
From Tips on Telemarketing to b2b Telemarketing